As the world races towards a vaccine, some founders are tackling other crises emerging from the pandemic.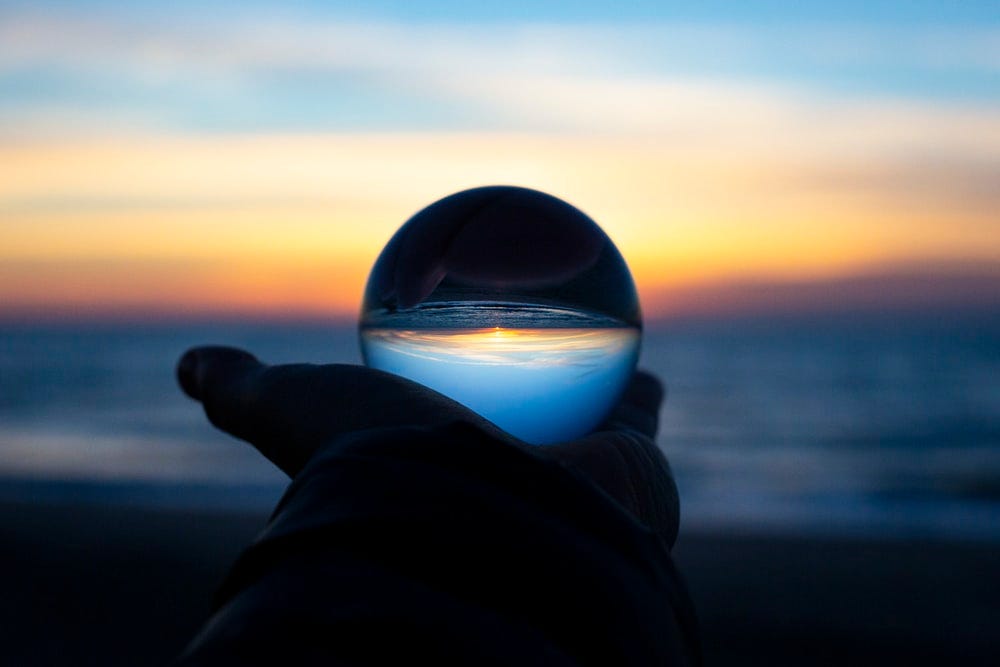 "They've gone beyond mere survival. These companies are actively solving higher-order problems created by the crisis, like remote learning and virtual therapy."
Who would dare start a company right now?
It's hard to ignore COVID-19's glaring economic effects on startups. VC funding for new ventures is drying up, mass layoffs are the new normal, and consumer spending has fallen through the floor nationwide. Times are desperate. Investors have urged founders to shed costs in creative ways and totally rethink their companies, from financials to headcount. Every media outlet is painting the same, bleak picture of the 2020 startup ecosystem.
Many early-stage startups haven't yet raised capital or gone on hiring sprees. They have their own struggles. Before the outbreak, some founders were right in the middle of the delicate phase of validating their market. Lots of these markets suddenly vanished when face-to-face interactions halted. Others are still finding their footing as a team. They now have to mold a company identity while overcoming morale and productivity hurdles.
College-aged founders rely on resources from university accelerators, and have had to shut down in the face of school closures. Free Ventures had 5 ambitious batch companies this semester that stuck with our program through it all. The founders were determined to adapt to the crisis and kept chugging along. But it wasn't an easy switch. We moved our weekly sessions online, trading face-to-face mentor feedback for breakout rooms. Each startup has recalibrated in brilliant ways to build immunity against COVID-19.
They've gone beyond mere survival. These companies are actively solving higher-order problems created by the crisis, like remote learning and virtual therapy.
Company priorities are fluid
Musa is a FreeV-backed online service that links emerging artists with unique venues for local art discovery. Right before lockdown began, Musa was networking with local businesses and growing its venue base. They enjoyed lots of organic growth among artists, but had to rethink their entire gameplan when lockdown started.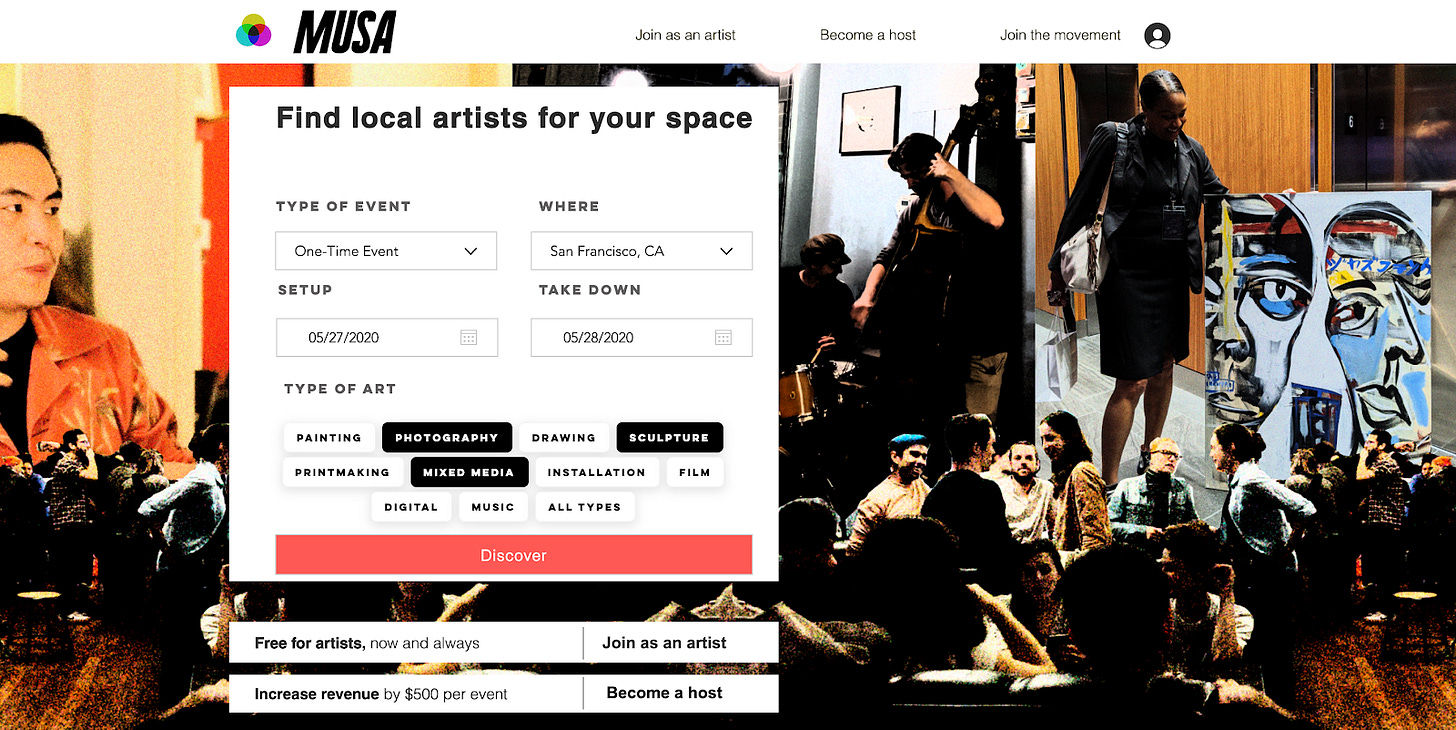 Musa balances a three-sided market. They attract all types of artists, unconventional venues, and eager audiences from around the neighborhood.
"We spent a week demoralized. It really seemed like all was lost," recall Musa founders Adam Sherman and Lucas Tepman. The founders were still nimble enough to pilot new initiatives without taking on much risk. Priorities quickly changed from aggressive sales and venue outreach to brainstorming online events.
It's not just venue closures. Supply chain snags are equally damaging for startups building physical products. Oki is a FreeV productivity startup that sells private, soundproof work booths in open-plan office spaces. With offices closed, Oki's plans to sell and test booths have been put on hold. Their booth manufacturing pipeline in China was also delayed after the virus caused a lull in manufacturing activity.
So, Oki can't build. They can't deploy a single prototype. They can't collect much-needed user feedback. Instead, co-founder Luofei Chen is improving the product's physical design and features. Their current model includes a large desk for space efficiency and soundproof panels for ultimate solitude.
"Until now we've met nearly all our goals on time. This is the first time we're facing so many delays and disruptions," says Chen.
Fortunately manufacturing activity is now on the rise ever since China's reopening in April. America's reopening has been slow, but this buys Oki time to perfect their booth. They'll be able show it off once employees are back in the office.
---
The duality of WFH productivity
Since they can't sell to offices, Oki's founders are looking to enter the work-from-home market. After talking to lots of potential users, they came up with 2 customer segments for a WFH booth:
Tech workers in their 20s who recently graduated college and live in small, shared spaces

Adults with children who are home from school due to the lockdown
Both groups have a pressing need for focus, privacy, and a noiseless environment. Even once companies start reopening their offices in July, many - notably, Twitter - have fully embraced the future of remote office work. As a result, the market for WFH productivity tools is swelling like never before. Oki will have to decide whether to focus its resources on office booths or WFH booths in the coming months.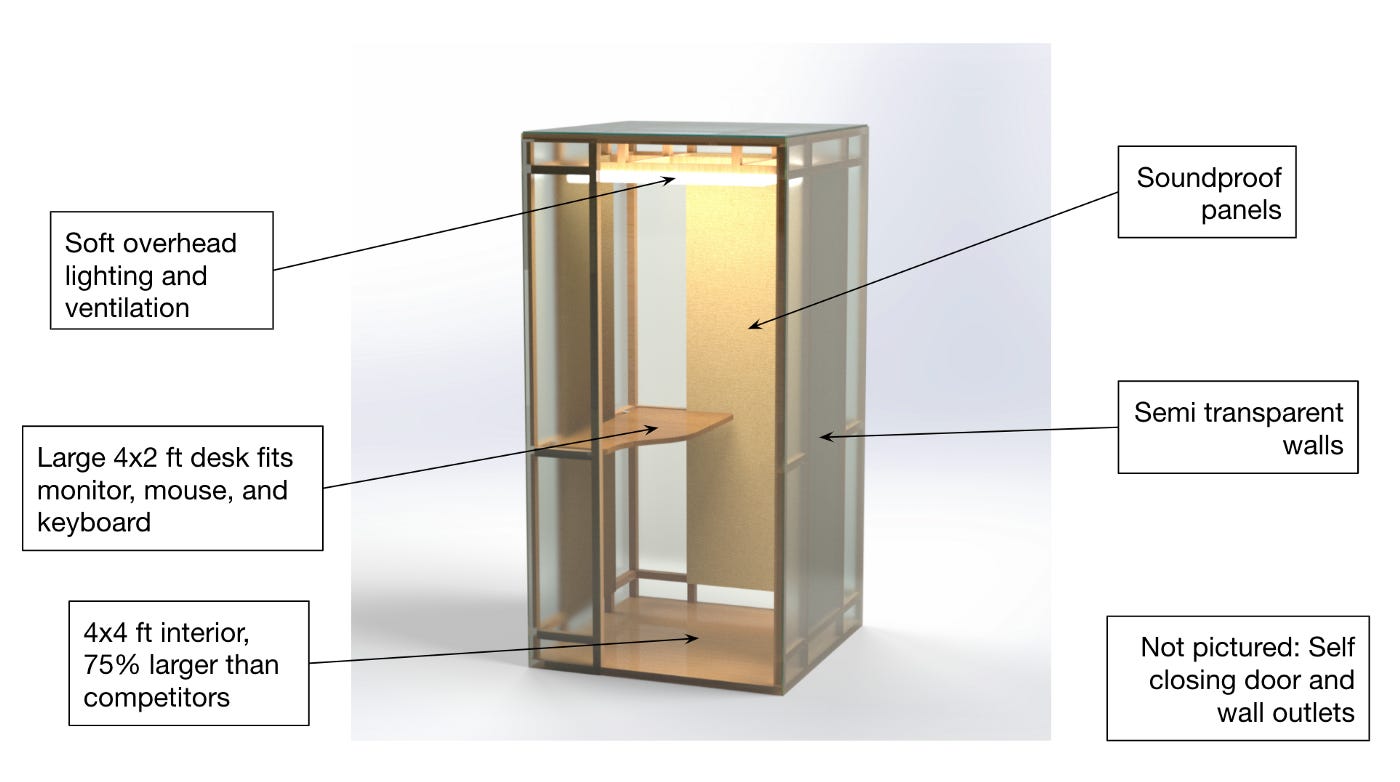 3D model of Oki's latest productivity booth - complete with privacy features suited for WFH
Not everyone is experiencing WFH productivity setbacks, though. FreeV's smaller teams like Healthpoint (2 co-founders) and Polyture (solo founder) are enjoying the ride. Healthpoint co-founder Keshav Rao is helping therapists manage their payments and online presence. He personally finds it easier to filter different opinions from customers in lockdown.
"Everyone wants a different solution and feature set. There's not enough time to address everything and you lose sight of your long-term vision," he explains. "In healthcare, it's not a traditional software transaction. We have to build what customers really want and prioritize what takes the least time. And that taught us how to say no to a lot of things."
Founder Jared Zhao's productivity is also spiking. He's working intensely on Polyture, a code-free data analytics toolkit for non-statisticians.
"It's much easier to enter a long period of focus and just get much more done."
Investors have always held mixed perceptions about solo entrepreneurs, but one thing is clear: Collaborating is tougher than ever, and working on your own can often be a blessing in disguise.
---
Keeping the culture alive
When lockdown forced Musa to cancel in-person showings, the company pivoted to online showings. They put together a digital art show on 4/20 with Mission Cannabis Club, a dispensary and lounge based in San Francisco's Mission District.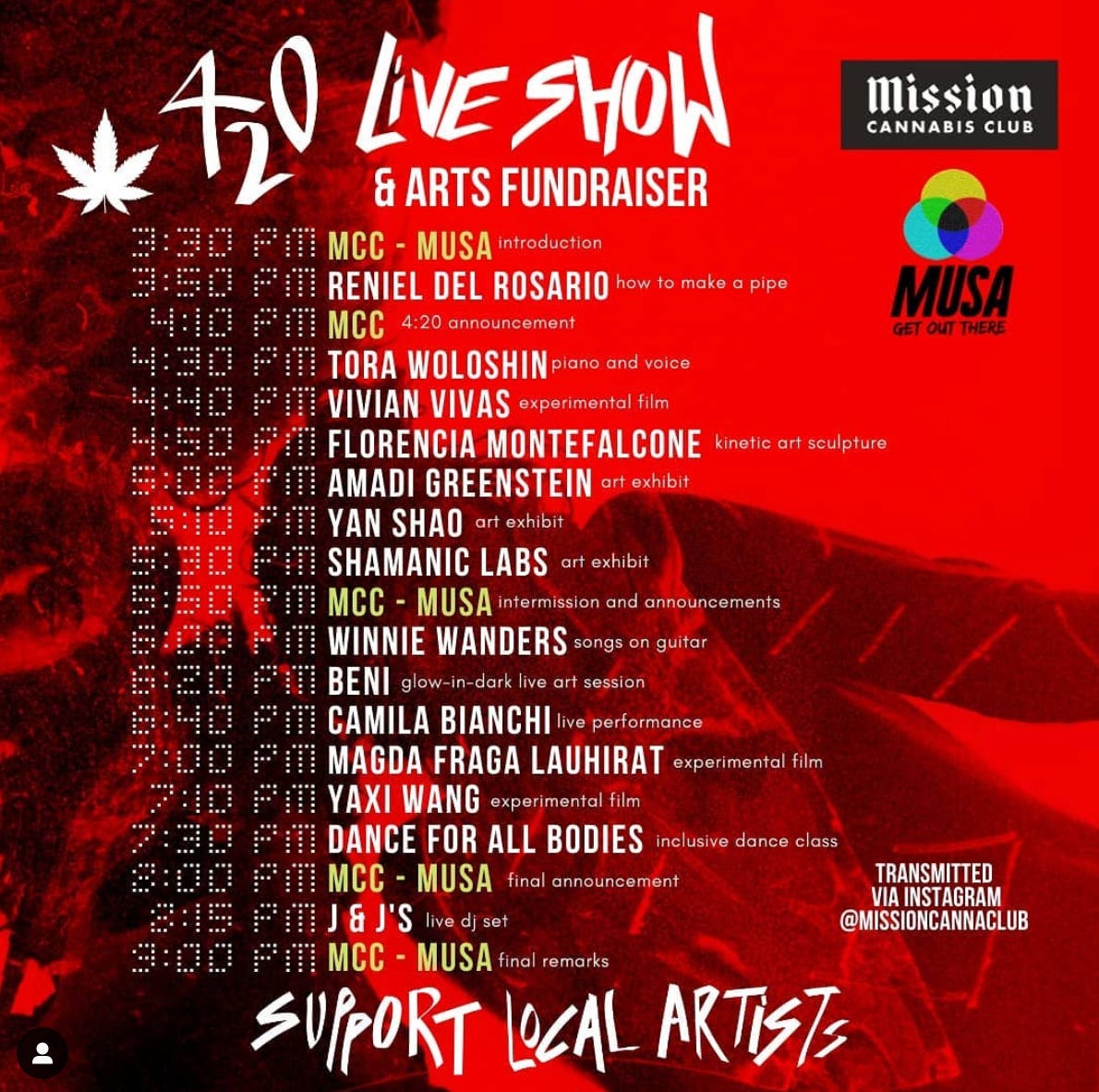 The diversified lineup for Musa's recent Mission Cannabis 4/20 Live Show & Arts Fundraiser
The 6-hour show was hosted on Instagram Live and was a smashing success. Bay Area creatives showed off DJ sets, experimental films, glow-in-the-dark live art, and dances. Magda Fraga, who heads Musa's marketing and social media channels, thinks there's still room for improvement. Instagram Live isn't ideal for every artistic medium of expression. Also, it's not optimized for 1-on-1 audience engagement or fundraising.
There are pros of virtual shows, though. Online art shows tend to reach a far more diverse audience than high-end galleries. Moving forward, Musa is creating a weekly recurring showcase to support digital artists. At each show, artists receive merch and funds raised through an online artwork raffle.
---
Digital interaction is in
After COVID-19 struck, critical sectors like education and healthcare moved online almost immediately.
School districts all over the world have the same question: How do they make the switch without sacrificing instructional quality? FreeV startup Myntor has partnered with filmmakers and award-winning teachers to roll out a series of AP Calculus video lessons. The kicker? Each math problem is inspired by current events to make class content relatable. Industry experts teach the lessons, which feature topics like modeling COVID-19 using integrals. Myntor recognizes that students are settling into remote schooling for the foreseeable future. Their method of teaching mitigates many common causes of technology distraction that crop up in online learning.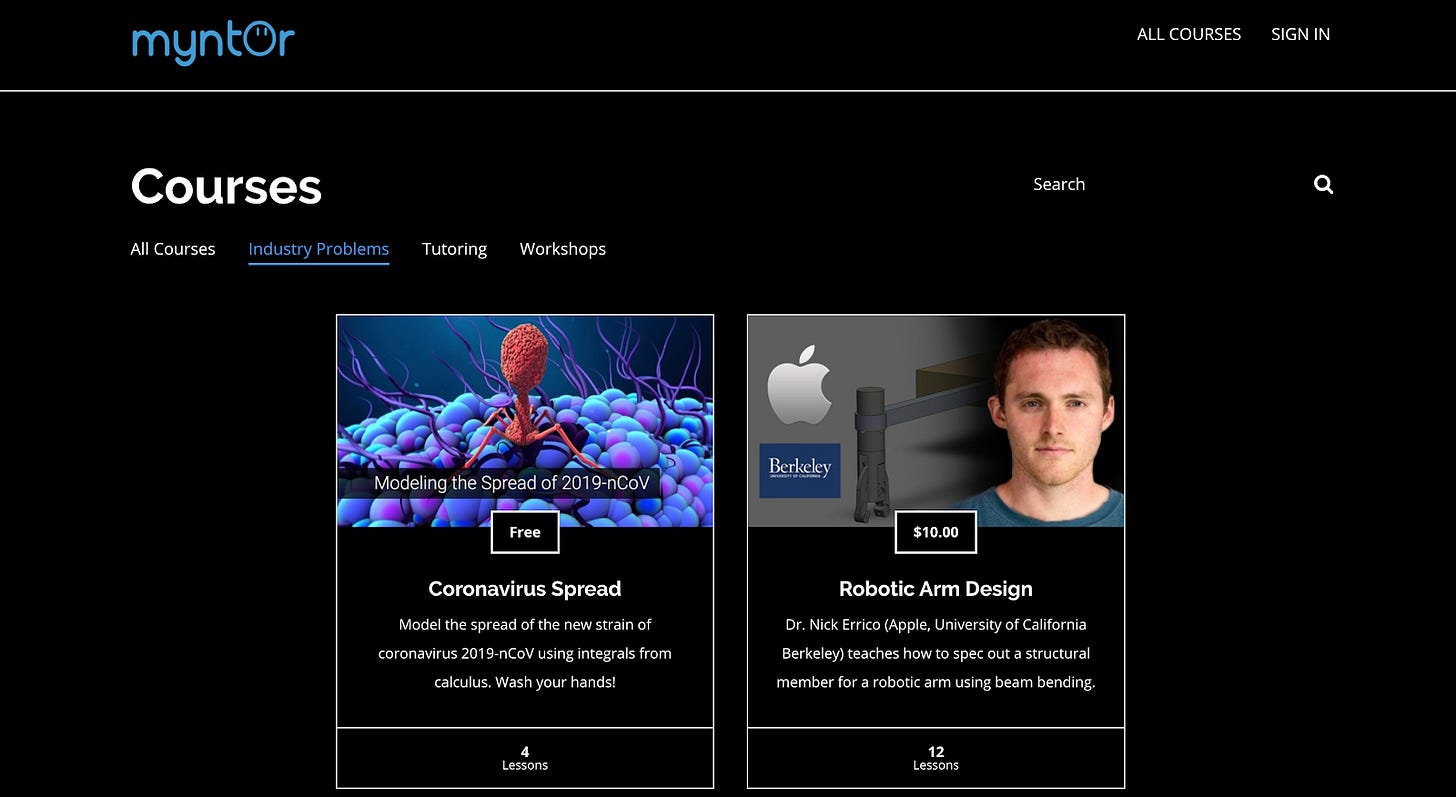 Myntor's industry-grade courses make learning relatable and useful for students.
For many, social distancing is turning into social isolation with drastic consequences. In Australia, the number of millennials undergoing psychological distress rose by nearly 60% since the start of the crisis. The American numbers were even worse. Even locally in San Francisco, officials are seeing a record number of calls from people with suicidal thoughts and anxiety.
"Social distancing only amplifies this problem because it's hard to talk through what people are thinking. It's tough to deal with frustrations alone," explain Healthpoint's founders. To support the uptick in demand, virtual therapy solutions that are easy to administer and pay for are more important than ever. Federal policymakers teamed up with health experts to ensure that our system can handle these changes - even after the pandemic ends. Many private practices are overwhelmed by the surge of online transactions. Telehealth can't be widely adopted without intuitive payment services like Healthpoint.
---
Fighting bias: a different type of disease
In 2020, we're all anxious enough as it is. The last thing we need is misinformation being spread, ranging from xenophobic rumors to blatant misuse of statistics. With Polyture, anyone can dive into datasets and draw insightful conclusions. No coding necessary! Below is Polyture's most recent demo - a meta-analysis of COVID-19 research papers from the last 3 months. They show average sentiment per paper across several research journals.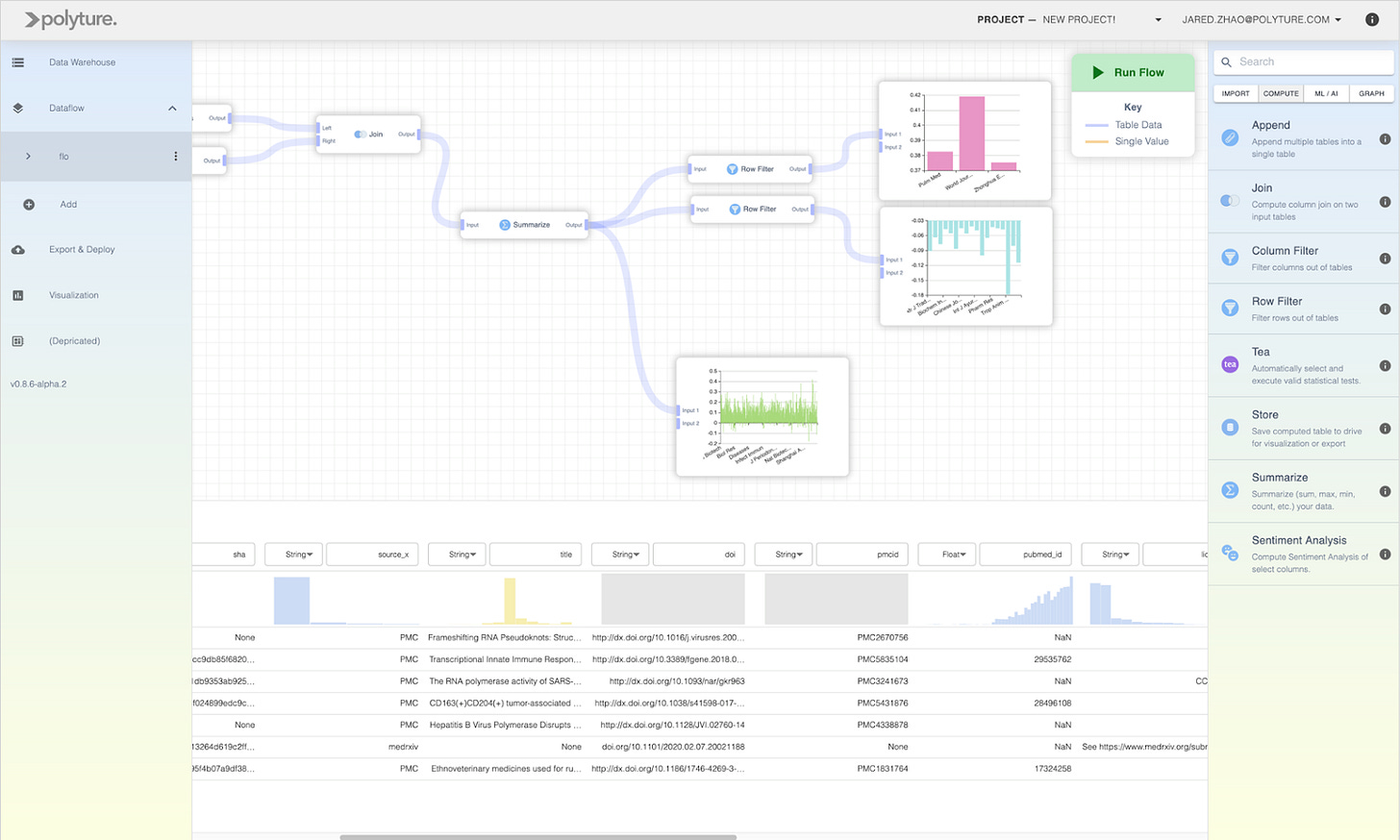 The bottom green graph is a plot of all sentiments found across journals. The purple and blue graphs are the high and low outliers indicating strongly skewed sentiment in the papers.
Sentiment outliers can quickly indicate patterns of bias among researchers. Not everything out there is peer-reviewed, and sniffing out bad science can be hard.
Polyture could empower scientists and journalists to fight biased claims, even when the bias isn't so obvious.
Recently, an influential Stanford medicine professor faced criticism for reporting flawed calculations about COVID-19's fatality rate. He cherrypicked numbers and underestimated the severity by 25-50 times. This wouldn't have been a big deal except for the fact that his study was partly funded by JetBlue Airways founder David Neeleman. Obviously, Neeleman's airline ties give him vested interest in being a COVID-19 contrarian.
This was a pretty clear instance of muddying academia with business interests and gained a lot of media attention. Polyture could empower scientists and journalists to fight biased claims, even when the bias isn't so obvious.
---
COVID-19: A double-edged sword for student founders
It's easy to quit right now. It's expected, in fact. Instead, Cal founders have boldly pushed the needle past our wildest expectations. A new wave of companies dedicated to fighting COVID-19's side effects is emerging, no doubt. But all 5 FreeV batch companies were already developing solutions that lent themselves to fixing the pandemic's fallout. We're very proud of their foresight and resilience during such a horrible downturn.
Based on what we've seen, opportunities exist for founding teams to adjust their lens and invent new ways to survive and thrive during this pandemic. If they can make it out unscathed, great. If they can improve the community around them in a time of disaster, even better.
Sequoia Capital calls COVID-19 2020's "black swan moment". A pandemic is rare, tragic, and undoubtedly high-impact. But history taught us that a crisis of this type and size was bound to happen - and will happen again in the future. For our batch companies, making it out of this crisis is a form of strength training. If they can survive now, they'll be stronger when catastrophe strikes next.
---
To reach out to any of the ambitious founding teams mentioned in this article, please contact the author, Shaantam Chawla, at shaantam@freeventures.org. Many thanks to Kathy Kong, Adhiv Dhar, and Nikita Ashok for reviewing this article.
Visit the Free Ventures website to learn more about our current and past batches, and subscribe to FreeV Spotlight for regular updates and articles about our amazing founders.